Tea & Sweets
Home
Tea & Sweets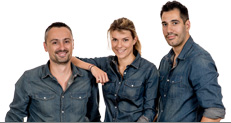 Our selection of tea and sweets
Let yourself be tempted by the best teas of the moment, packaged as you prefer!
Loose tea, individually wrapped tea bags for preserved flavours, tea in capsules compatible with your coffee machine or tea selection pack to offer an elegant gift.
Among the sweet treats, find chocolate in all its forms: hot chocolate powder, chocolate spread, chocolate bar, Neapolitan and other sweet treats to accompany your coffee.
We have also selected gourmet drinks, syrups and smoothies.
Categories of Tea & Sweets