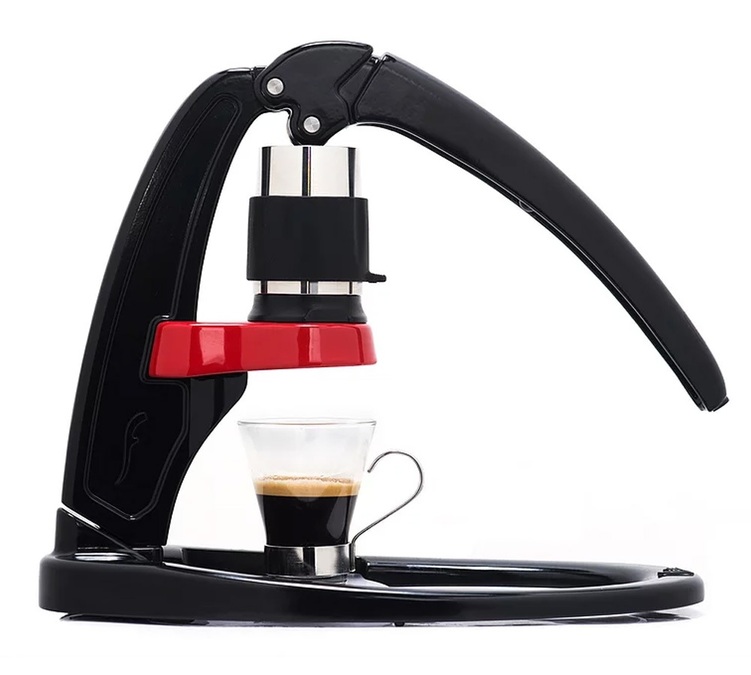 Choose your next lever espresso machine
Authenticity, quality, design ? You will find the perfect object amongst our selection of lever espresso machines .
Discover unique espresso machines that do not need electricity to produce a magical espresso ! At MaxiCoffee, you will find beautiful manual espresso machines from high quality brands such as Wacaco, Rok, Aram, Flair ... Also, take a look at our range of manual coffee grinders if you like freshly ground coffee beans . Alternatively, you can also choose from our range of ground coffee.
Manual Espresso Machines coming back in stock soon
Achieving the perfect espresso with a lever coffee machine gives you a real sense of satisfaction! Indeed, the lever machine invites you to "live" the extraction of your espresso, using your own strength to exert the necessary pressure.
If you are a coffee lover, a caffeine geek, someone who loves to have total control over the extraction of an espresso and who likes to sublimate the aromatic notes with freshly ground specialty coffee ? The lever espresso machine is for you!
This type of coffee machine requires real mastery and solid coffee knowledge: how to grind your coffee beans with a specialised espresso grinder, how to properly dose and pack the grind, understand the importance of pre-infusion, temperature, pressure, etc.
Lever-operated coffee machines are available in different formats (electric, 100% manual, with or without a boiler, with or without a steam nozzle to make milk foam, etc.). Some lever coffee machines even allow you to cheat a little by using pressurised filters or even ESE pods! Whichever model of lever machine you choose, this manual espresso machine will never go unnoticed with its unique look! As well as creating a highly concentrated espresso or ristretto, the lever machine is also a beautiful object that will sit proudly on your counter.
The electric lever coffee machine
These lever espresso machines are designed with high quality materials such as a beautiful stainless steel body, a brass extraction unit and filter holder, etc. They have the advantage of having a very high level of efficiency. They have the advantage of having a boiler to heat the water to the right temperature, some models are also equipped with a steam nozzle to be able to make milky drinks, or a pressure gauge to keep an eye on the pressure exerted. These lever machines usually have a spring system that applies pressure to the extraction unit when you lift the lever. This is a consistent system for each coffee extraction, a little easier to control than a 100% manual machine.
In this category, the Italians are masters! Who else can offer top-of-the-range lever-operated coffee machines capable of extracting espressi and ristretti as syrupy and aromatic as those you can drink in Italy? Find the lever espresso machines of the brands La Pavoni , Bezzera or Elektra to live the Dolce Vita with style!
The non-electric lever coffee machine
For those who are looking for a coffee machine that is more economical with electricity, manual lever coffee machines still require hot water to be used. A kettle is therefore essential! This type of coffee machine has no spring: you lower and raise the lever throughout the extraction process and have 100% control! The advantage? Most of these lever machines take up very little space and some are also designed to travel with you! The joy of a perfect espresso, wherever you are!
Discover the 100% manual lever coffee machines with Flair Espresso , Rok or Leverpresso .