Discover artisan coffee from Les Petits Torréfacteurs with this selection pack. 16 different coffees to choose from including Pure Origin or Flavoured coffees. ESE pods compatible with any manual espresso machine accepting this type of pods. Offer exclusive to MaxiCoffee! 32 individually-wrapped ESE pods. Made in France.
Discover our selection of exceptional coffee through this pack with 16 different blends:

- 8 Pure Origin coffees from Congo, Tanzania, Guatemala, Cameroon, India, Colombia, Brazil, Honduras, Ethiopia, Australia, Hawaii.

- 3 flavoured coffees among the following: chocolate, vanilla, crème brûlée, maple syrup & pecan nut, caramel and walnut, hazelnut, cherry, praline, almond, mirabelle plum, whiskey cream

- 3 blends among the following: Traditional Espresso, Le Mélange de Louise, Le Mélange de Jules, Blend, Jules Blend, The Prestige Blend.

- 1 decaffeinated coffee

2 pods of each. The selection has a total of 32 ESE pods, each individually wrapped.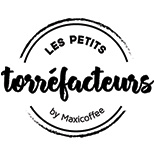 Les Petits Torréfacteurs by MaxiCoffee
Since our very beginnings, we have had the pleasure of working with exceptional artisan roasters that share our passion: the quest for good coffee. It was from these encounters that we had the idea of ​grouping our work around a single name: "Les Petits Torréfacteurs by MaxiCoffee" was born.
So much more than just a name or brand, "Les Petits Torréfacteurs by MaxiCoffee" is the coming together of artisanal savoir-faire, team work and a passion for the industry. These roasters work together to offer you a range of Grands Crus coffees available in bean, ground, ESE and soft pod format.
Maxicoffee Bestsellers Rank