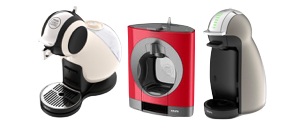 Find Nescafé Dolce Gusto pods and Dolce Gusto compatible pods on MaxiCoffee. All our pods are selected to ensure great taste and compatibility with your Dolce Gusto machine.
Browse our selection of pods for your Dolce Gusto machine at the best prices: coffee drinks, cappuccino/latte, chocolate drinks, tea etc... There is something for everyone!
You will find a wide range of Dolce Gusto branded pods but also alternative options to capsules already on the market from brands like Café Royal, Oquendo, Corsini Caffè ...
Product(s) 1 to 79 / 148 (in total)