For a delicious cold chocolate drink ! 250g box from Monbana, French chocolatier.
This Cocoa powder is made for cocoa flavoured cold drinks, ready in 10 seconds !
Suggested recipe :
1. Put 1 tablespoon of chocolate powder in a glass.
2. Pour 250 ml cold milk and add ice cubes
3. Shake and your drink is ready !
4. Serve with crushed ice and add a straw.
This box will make around 12 x 250ml drinks
Ingredients: sugar, lean cocoa 33% minimum (emulsifier: soy lecithin), vanillin, cocoa butter: 3.6%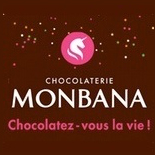 Monbana
Monbana is a family business which has been operating since 1934.
Over three generations, the company has been able to grow and develop while maintaining their spirit of "craftsmanship".
Thanks to its two production sites in France and its own plantations,
Monbana
showcases its love for chocolate through its drinks, cakes and chocolate bars.
Maxicoffee Bestsellers Rank
| Monbana "Frappé" chocolate powder - 250g | |
| --- | --- |
| Type of product | Frappé |
| Number of drinks | 12 |
| Packaging | 1 unité(s) |
| Applications | Milkshakes, Frappés, etc. |
| EAN : | 3474340090200 |