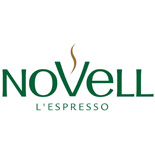 Our Cafés Novell Selection
The Spanish brand Novell was born from the know-how of Spanish roaster Ramon Novell Vivó in 1958. Novell offers a wide range of quality
quality coffees: compatible Nespresso capsules, coffee beans and ground coffee. Cafés Novell has adapted to the changing market demand for a more eco-friendly approach. The brand now offers biodegradable and compostable capsules. Discover the wide range of Novell coffee available on MaxiCoffee at attractive prices!
Cafés Novell | Organic Coffee